Grammarly is the most accurate and reliable grammar checker available on the internet. No one else offers as good writing assistance as this tool, from the free version to the premium one.
This post is checked with Grammarly Premium, as I am a Happy Premium Member since May 2020.
In this post, the print screens are done working through Grammarly to understand better how the job is done.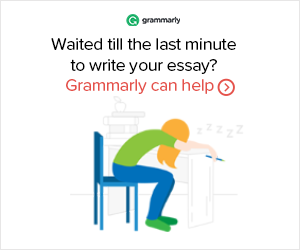 I am paying $139.95 yearly ($11.66/month), and this is my recommendation for you – the best deal! For business membership, kindly check below.
What is Grammarly?
Grammarly is a writing tool that helps correct almost all writing mistakes, including grammar, spelling, sentence structure, punctuation, and plagiarism.
Example of plagiarism detected
Not only this, it thoroughly evaluates each document and tells the quality of writing in different domains, i.e., readability, vocabulary usage, and shows overall writing score compared to other Grammarly users.
All these are the core features that every user can enjoy – premium versions has a lot more to offer.
Over 10 Million daily active users of Grammarly include professionals, native speakers, and people for which English is their second language.
This tool can help anyone eliminate all writing errors, whether it is a professional paper or a blog post.  
Check this video for better understanding Grammarly:
Grammarly features highlight:
Grammar Check: Flags and correct the grammatical errors. There is a complete explanation of grammatical rules and suggestions for each flagged error so that besides correcting errors, users can learn too.
Punctuation check: Just like grammatical one, punctuation errors are marked, corrected, and explained.
Spell check: It detects all spelling mistakes, makes suggestions, and corrects errors. Sometimes words are shown as spelling mistakes by spell-checkers such as acronyms, jargon, etc.; with Grammarly, you can add those words to the dictionary for a more personalized experience. Keep content mistakes free using the best writing tool – Grammarly.
Plagiarism detection: It is available for premium users only. Grammarly compares content with tons of web pages on the internet to detect plagiarism. Detailed report for plagiarism is provided to users within minutes. This report is as accurate as any professional plagiarism detection software.
Suggestion to change the punctuation
Detailed writing evaluation: a real-time insight report is generated for each document you type or upload on Grammarly. This report shows readability score, unique vocabulary usage, content strength, content score compared to other Grammarly users, content engagement, minutes and seconds required to read the complete document, and few more things (plagiarism report for premium users). This evaluation is helpful for every user to improve their writing over time.
Language preferences: language dialect matters a lot, especially when it comes to spellings. Depending upon preference, Grammarly allows users to choose between British, American, Australian, and Canadian English. Language preferences can be switched easily via profile navigation.
Vocabulary enhancement: available for premium users only, this feature allows users to advance their writing by suggesting better alternatives of written phrases and words. It thoroughly checks the context of content and makes suggestions that can optimize the content, especially when it comes to overused and repetitive phrases. These phrases are not grammatically incorrect or have any mistakes yet capable of marring the quality of content.
Synonyms: Double click on a word, and Grammarly shows multiple synonyms of it. Clicking on any synonym, you can replace the original word with it. Even if your English is not very good or you don't know enough jargon, or you have an issue with word repetition, you can step up your writing's final look using this feature.
Customized editing for each document:
Both in the free and premium version, every time a document is uploaded, a tab prompts on the screen n and asks the user to set goals of Audience, formality, domain, tone, and intent. Depending upon these categories, writing tone and style can be different. Set these parameters via a single click, and Grammarly will make suggestions and flag errors accordingly. Besides eliminating errors, goals increase relevant vocabulary usage, increase engagement, the right tone, and increase clarity. Goals feature is unique and only offered by Grammarly.
Suggestion to rephrase the sentence
Versions offered by Grammarly:
Grammarly is offering 2 plans right now:
Free
Premium (Individual and Business)
Free Version
Without any cost, anyone can use most of the features highlighted in the prior section. Just go to sign-up, and start using it.
Signing-up is mandatory for every user, and honestly, it increases the user experience. Every document you type or upload on Grammarly when signed-in is automatically added to your profile's home page.
You can access these documents using Grammarly from any other device and download them again. In case you lose your documents from your PC or phone, they are still saved on the Grammarly homepage.
Conciseness suggestion
Using free versions, users can install some apps too for a better writing experience overall. These apps are:
Grammarly for Microsoft Office
Grammarly for Windows
Grammarly for Chrome
Grammarly Keyboard for phone
Grammarly iPad
Premium Version
Premium version has two categories: for individuals and businesses.
For each Grammarly user, it is mandatory to sign-up with a free version first. Afterward, anyone can subscribe for premium individual or premium business for an advanced level of corrections.
Some of the features from all the things Grammarly premium has to offer are:
Advance level of all the free features
Clarity-focused sentence rewrites
Tone adjustments
Example of confident writing
Eliminate hedging language or unnecessary qualifiers to sound more confident.
Inclusive language
Word choice
Formality level
Fluency
Additional advanced suggestions
Grammarly's business is targeted towards the teams and organizations. A team of 3 to 149 users can benefit from just one subscription paying a minimal charge per head/month.
In addition to all free and premium features, Grammarly's business offers additional features for each individual for just $1 more than premium individual charges. Some of these features are:
Style guide
Admin panel
Centralized billing
Centralized account billing makes expensing and managing preferred payment methods a snap.
Priority email support
SAML SSO (for accounts with 50+ users)
All of these features have multiple sub-features to give professional looks to your content in no time.
Grammarly suggestions in Microsoft Word
Free or Premium – Which version is worthy?
Both free and premium versions are pretty great. Which version suits you best depends upon your writing needs.
The free version has most features except advanced level corrections, tone adjustments, plagiarism detection, vocabulary enhancement, and some other features.
Though these features are minimal compared to premium but enough to fulfill the needs of bloggers, students, and akin users.
If you do not have the budget or need to check your documents occasionally, the free version is best. Without any exaggeration, Grammarly free offers more than any other online editor available.
As a content writer, author, and professional, Grammarly Premium services can really make a difference for you. You can give your content a touch of high-level professional editing within minutes.
Among all the features of premium, plagiarism checkers and SEO services really stand out. Grammarly makes all the suggestion which can really help-out your content to move to the higher rankings on search engines without you investing efforts in search engine optimization.
Whereas, built-in plagiarism checker compares your content with around 1.5 billion web pages in no time and provides you with a complete report.
Both SEO and plagiarism checking tools are costly; Grammarly might be a little costly, but it can save you the cost you have to pay for these tools as a content creator, author, student, et cetera.
Vocabulary suggestion
If you do not use Grammarly already, start with the free version. Either it would help if you had it casually or professionally. Once you understand how it works and feels the need for additional benefits, sign-up for premium. In terms of price, Grammarly falls in the middle of a high-priced checker.
Its Premium plan costs $29.95/month, $59.95/quarter (or $19.98/month), and $139.95/year (or $11.66/month), so it is better not to sign-up for premium until you are delighted with its performance.
Overall, in terms of performance, reliability, and performance, all versions of Grammarly are worthy. Which version can work best for you solely depend on your writing needs?
Grammarly Mobile keyboard
As a Grammarly Web and Grammarly Mobile app user, I wouldn't say I liked the mobile keyboard app very much.
The keyboard app does catch all the mistakes and make correction suggestions, but it is difficult to use and sometimes very annoying – especially the Android version.
Tone suggestion - diplomacy example
Sometimes it adds unwanted suggestions in content that users have to correct on their own. Those who are not native English speakers or don't have excellent English might make mistakes in their text, killing the app's purpose.
People who don't mind correcting 2 - 3 errors per text or have good English can really benefit from this app when they are away from their computers.
Once installed and activated, the Grammarly keyboard will check spelling, grammar, punctuation, capitalization and correct the mistakes.
Users can on/off auto-capitalization, auto-correction, Caps Lock, keyboard clicks, etc., using settings for a personalized experience.
Clarity suggestion
Like the web version, the app offers American English dialects, Australian English, British English, and Canadian English. A personal dictionary allows names and other information to be inserted.
Does content show up as plagiarized if Grammarly checks it?
This is the biggest concern of content writers, professionals, and students regarding content checking and elimination using some online services.
Only the content indexed on the web is detected by plagiarism checkers. Grammarly doesn't index any user data typed or uploaded on it, so no-way any of the text uploaded on Grammarly is shown as plagiarized.
Correct article usage
Is Grammarly Worth it?
Yes.
It does cost compared to other writing, but on the other hand, no other tool is offering as many features as Grammarly.
It is an excellent real-time tool with impressive performance and accuracy, which corrects mistakes and improves their English over time.
Easy to use, reliable, quality performance, and complete explanation of each problem to help users learn.
For the users concerned that subscription charges of Grammarly are a lot, they can benefit from special offers and customized subscriptions.
Subscriber discounts sometimes proffer as much as 50% to 70% discount on premium subscription. Users can also benefit from some customized checks and decrease some of the cost or get annual subscription costing half compared to monthly charges.  
Lastly, you can cut the subscription cost you have to pay by Signing-up for Grammarly Business and sharing it with colleagues.
This premium subscription is billed annually, just like the premium's annual membership- individual version, and costs $15 per member. It has some additional features compared to the premium individual but costs almost half (per person).
Pros:
Accurate corrections every time
It offers a lot more features and accuracy for free compared to any other checker.
Detailed explanation with each correction is beneficial in learning
Complete evaluation report of each document highlights the strength and weaknesses in detail. Helpful in betterment as a writer.
Plagiarism check and content SEO services in premium versions.
Fast and easy to use
Every checked file is saved on the homepage. In case of losing data, you can download it again on any device from your account.
Ten-day money-back guarantee
Web extensions for most of the browsers and operating systems.
Cons:
Grammarly mobile app is problematic, especially in Android.
No offline editing mode for both free and premium.  
No free trial for premium
Premium is expensive if paying monthly subscriptions
Conclusion
Grammarly is the best available writing tool for error-free writing.
As an author, I always run my content through Grammarly, and it never disappointed me. It added many words to my vocabulary and helped me learn about a few problems in my sentence structure.
 Suggestion to change the wording
Whether you require writing assistance casually or regularly, Grammarly can step up your writing and make editing easier with guaranteed accuracy.
Both free and premium versions are worth it. Which version can work best for you solely depends upon your writing needs and how frequently you need a writing tool.
The free version doesn't offer plagiarism check, vocabulary enhancement, some SEO features, and many other features that come with paid subscription, yet it has got your back, nevertheless.
Grammarly corrects your grammatical, punctuation, and spelling mistakes and helps you learn a lot by giving complete correction details and grammatical rules, et cetera, with every flagged mistake.
Overtime it visibly adds in the vocabulary of users and betters the writing in general. All these features are for free. Premium has a lot more to offer.
Formality suggestion
There are multiple features in Grammarly that make it stand out above others. It is built on a brilliant artificial intelligence (AI), making sure to enhance every document checked contextually.
Grammarly offers you all the features of any top-notch writing, editing, proofreading, and plagiarism detection tools for the price of one.
If you are still not using Grammarly, we highly recommend you to sign-up for it!