Are you looking forward to boosting traffic on your business website? Want good traffic but don't want to deal with complications in managing regular SEO marketing tools? Traffic Travis is the answer for you. It is software that helps the websites to do better in search engine ranking.
With SEO basics, it comes with several other tools such as SEO health/performance checker, backlinks, AdWords, competition identification, your business link finder, et cetera.
A lot of people are using Traffic Travis to drive traffic on their websites and monitor it. All you need is a desktop to install this software. After this, it will:
Upgrade your rankings
Monitor your projects
Do keyword tracking across several search engines.
Highlight competitors and compare your performance.
Bring out the best keywords which you can use to grab more attention to potential customers.
Manage your website links
Make one-page analytical reports about the performance.
Find out your website performance and rankings on top search engines.
TRAFFIC TRAVIS: HOW TO START
Before starting with this, keep one thing in mind, Traffic Travis is a desktop-based software. You can only use it on the desktop you install it. It is a kind of old-school aspect, but the ample amount of features that come with it will mask this shortcoming.
Downloading Traffic Travis
Starting with this network is as simple as starting with any main-stream social media network. Here is the step by step process:
 From your desktop, go to the official website of Traffic Travis.
 Sign-up and provide the required information.
 After signing up, you will find an option of 'free download.' Even if you want to sign-up for the premium version, you have to sign-up with the free version. We recommend you to use this free version for a while and understand its working. Once you know it and start getting results, go for the professional version.
 Click on this option. When you start downloading, you will get an e-mail with your registration code.
 Once the software is downloaded, enter your registration code in it. Without this code, you can not start using Traffic Travis and its tools.
 Now you start using it for your SEO. (Following these steps, you can only enjoy free tools. To enjoy all of it, you have to upgrade to the pro. Details mentioned in the coming section).
Easy? Right? No doubt, it is easy, but before you start putting up your projects, search keywords using Google Ads. With this step, your keywords ad planner will be uploaded on Traffic Travis, which helps it to identify your business relevant keywords more effectively.
To do so:
Click the 'files' option on the software's display.
Select the 'Options'
A new window 'Google ads' will pop. Click on it
Click on 'Test Google Ads Login'
Enter your email address and password. After successful log-in, your Google Ads Keyword Planner will load on Traffic Travis.
We suggest you watch this video for a better understanding.
DIFFERENCE BETWEEN FREE VERSION AND PRO VERSION
Free version
As the name shows, unlike usual search engine optimization software, you don't have to pay anything to start with it. Though you can't enjoy all perks yet, this version has a lot to offer that too without spending any single penny.
The number of projects and keywords tracking is limited to it. There isn't any time limit to use the free version. It won't expire. You can keep using it free as long as you want. Option to upgrade to the professional version is always open.
Professional version
If you decide to get your hands on maximum SEO, you have to pay the premium of 97 US dollars yearly. These payments are made via ClickBank. In case you want to make monthly payments. Unfortunately, no such option is available.
97$ for traffic boost, keyword finding, creating projects, finding links is nothing as compared to hefty premiums you have to pay with other software. Key features of the professional version are:
Creating as many projects as you want
Tracking unlimited keywords on SERPs
Effective and more keywords tracking than the free version
More background link finding
SEO research functions
No doubt, the pro version is excellent, but manufacturers should consider working for the betterment for some things. Link finder effectivity should be enhanced. SEO search function responds slowly after some time.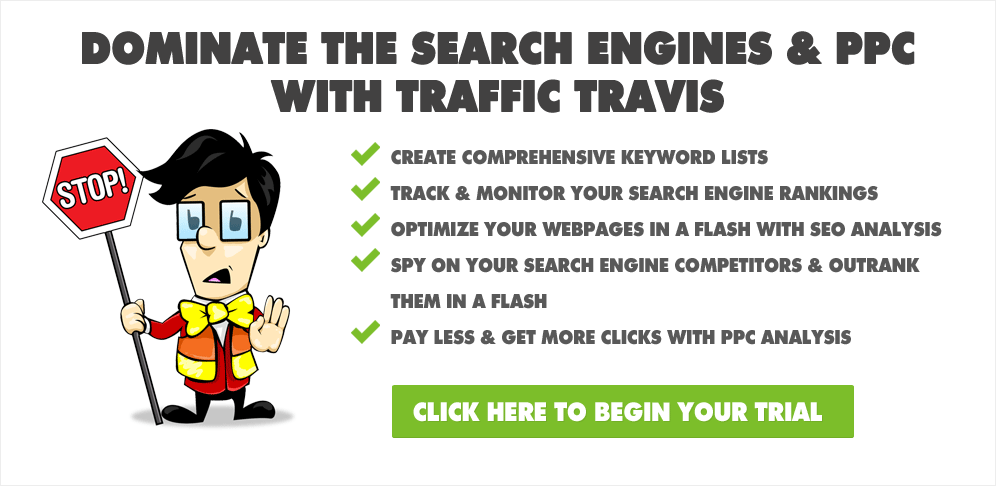 GENERAL FEATURES AND TOOLS OF TRAFFIC TRAVIS
The only thing required from every feature of SEO software is that either it is boosting up the traffic flow on the website or not. Well, the tools of Traffic Travis are capable of doing it.
Here are details about these tools one by one:
Keyword research
Keywords play an essential role in rankings. The use of appropriate keywords brings more customers to the website. Built-in keywords research tool of Traffic Travis is capable of finding the best keywords as well as it can make new-one too.
Keywords module can easily be accessed through the search bar. To get your keywords, enter the domain for which you're looking for. You can also add your keywords manually. Click on the text bar and copy-paste the list of keywords.
While using a free account, users can enter up to five (5) keywords only. One hundred keyword suggestions/ideas are also provided with it from Traffic Travis. For the Professional plan, you can enter as many as you want to and also can get up to 2,000 suggestions.
Finding Domain
Just like keywords, you can also find domains. As per target words you entre, Traffic Travis will find the best available domain name. It also enables us to find the domain extensions for the software itself.
With the help of advanced settings link on the display page, spaces in your keywords are replaceable with hyphens or a mix of both to make your domain name and keywords more effective. You can also add additional words that the software will factor into its search.
When you are finding domains, every domain according to your entered keywords is displayed with its availability status.
Managing projects
Traffic Travis makes it pretty easy to set as well as manage the program. All you have to do is command it to initiate a project. Once you will do so, after that, you will keep getting its progress reports, traffic moments reports, and several insights about that program.
Combining it with Google Analytics account can get you better and more accurate results.  It makes it easy to manage both and enhances the workflow. If you want to combine these two, first generate an authorization code from the software to enter in Google Analytics.
To create a new project:
Click on the "Create new project" option on the home page.
A new tab will display. It will ask you to provide information about your site.
Fill details. Be careful while doing so. Your project will be developed as per input.
Choose relevant engines on which you want to track your site. Traffic Travis supports top engines such as Google, Yahoo, and Binge.
Click the update settings tab.
Enter URL of videos in the text box in video rankings if you want to monitor their ranking on your selected engines
Choose the type of report you want and select its file format.
Wait for a while to obtain access tokens to the different properties in Google Analytics.
Select token for engine on which you want to track
The miscellaneous tab will appear. In this tab, different factors that you want to track are displayed. Check them consciously.
The project is complete. Click "Save Project."
After a few minutes of saving, Traffic Travis will display all the information and metrics about your project.
All of these tools for the project are free. With the pro version, you can get one thing extra: link analysis.
Rank tracking
Your rank on search engines reflects either your site is popular among relevant people or not. Traffic Travis shows your rankings from highest to lowest on different mediums. To see how your page performance click on the SEO tab.
It will displays performance on SERPs based on your keywords. It shows you a table of pages from your site ranking from highest to lowest. You can also get information about the database location via this tool.
If your ranking moves towards the highest or lowest, you can instantly monitor. It can indicate that either measure you are taking for a traffic boost is successful or not. Keywords rankings can also be traced. It will also show that in the case of making changes, your search position is getting better or not.
The frequency of monitoring can be set on the fortnight, weekly or daily.
Keyword tracking with a free account is limited to 30 keywords. With pro, you can monitor unlimited words.
On-page Analysis
On-page Analysis analyzes all the content of the project and points out different factors. These factors are on-page and off-page SEO factors.
To use this tool, go to My Site tab. Already you'll find different columns for SEO metrics. The first column identifies the quality. The backline column shows all backlines for the site and their details. Page warning column shows vital on-page factors that your page is missing.
Competitors analysis
With this tool, you can analyze the ranking of your keywords and find out what you are missing. It only breaks down the top 10 pages ranking for the keyword you entered and shows you its average SEO metrics.
You can access this tool under the SEO Metrics tab.
Verdict
Some users can find it old school because it can only be used on the desktop. But keeping this thing aside, it is offering much more than main-stream SEO software. The free version is more than good, but what you can get from a pro is beyond comparison. Sign up today for free, and let us know your experience in the comments below.